Frequently Asked Questions
Are you integrated with Comeet ATS?
---
Yes we are! And it's quite awesome. Take a look:
---
Must I have an ATS in order to work with Spetz?
---
Definitely not. We're able to tailor a solution that will fit your company's needs and will not require an ATS. If you wish to learn more, don't hesitate to reach out to us.
---
Establishing a Business WhatsApp
---
As a Spetz client, you're entitled to our help in establishing a Business WhatsApp directly through WhatsApp. In order to get your Business WhatsApp set up, we need 2 things:
Your Facebook Business Manager ID

- this allows Business WhatsApp to authorize your business.

Genereating 4 WhatsApp templates

- also a requirement of Business WhatsApp, don't worry though, we can help with phrasing and reviewing those templates.
---
Finding your Facebook Business Manager ID
---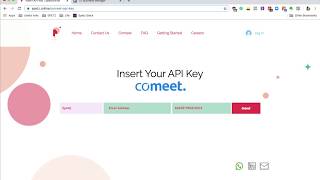 Use this video to find you Facebook Business Manager ID :) If you already have a Business Manager:
Select Business Info
Under Business Manager Info you'll find you ID number
If you don't have a Business Manager:
Go to Business.facebook.com
Select Create Account
Follow the instructions
---
Do I have to have Business WhatsApp in order to use Spetz?
---
Yes, you must have a Business WhatsApp. If you don't already have one- that's not a problem! As a Spetz client, we're able to generate you a one, authorized by WhatsApp.
---
What are the benefits of using a bot when recruiting?
---
After communicating with thousands of candidates, while measuring results and inquiring users, we realized that candidates appreciate this 'out of the box' type of communication since they perceive it as both friendly and respectful at the same time.

From the company side, the bot allows recruiters to boost their day to day activity. Integrating a bot means dramatically shortening TTH and improving Candidate Experience thus increasing Employee Branding.
---
Are you integrated to our ATS?
---
Probably yes! Feel free to reach out to us to make sure.
---
What types of massages can be sent out?
---
When using WhatsApp Business, one must pay attention to the 2 different types of messages!
Template Messages
Session Messages
Template Messages
The first message to be sent out to your candidate within a 24h window. This message is submitted by us to WhatsApp, and they must

approve

it! For it to be approved it must:
Contain some sort of context ("Following your CV submission" / "Happy to receive your application")
BTW, we're charged for every template message sent. Don't worry though, this charge is encompassed in our pricing, Session

Messages

Meaning, all messages sent to a candidate following their response. These messages aren't to be approved by WhatsApp.
---
Opt-in requirements for WhatsApp usage
---
WhatsApp requires an opt-in! Here are 2 ways to implement it to your current work method:
Add a checkbox on your website, next to a WhatsApp logo, and a short sentence explaining the relevant usage. Here's how we did in Spetz.io-

SMS to WhatsApp- you can choose to start with sending an SMS to your applicants, with a link to initiate a WhatsApp conversation.
---
Can the opt-in checkbox can be checked?
---
No, the opt-in must be an active opt-in. This means it must be triggered by a user action, such as entering a phone number or checking a box to indicate consent.
---
How does the opt-in should look like?
---
User must be asked to opt-in via a visual element (checkbox or similar) shown next to the WhatsApp name and logo on your chosen third-party channel.

The user should have control over what number is used through explicit action (e.g., editing).

In addition, language must be shown adjacent to the UI elements to explain clearly what information will be received and make specific reference to this information being sent as messages on WhatsApp.​
---
Can I use SMS, email, and other channels to get opt-in on WhatsApp?
---
Yes. You can use any channel that you use today to reach your customers, but you must follow our guidelines in order to get them to opt in.
This means that there has to be a flow for a user to indicate the number and types of messages they want to receive on WhatsApp.
An example would be sending an SMS that links to a form they can fill out to indicate that they want to receive messages on WhatsApp.
---
---
---
---